Cookie preferences
This website uses cookies, which are necessary for the technical operation of the website and are always set. Other cookies, which increase the comfort when using this website, are used for direct advertising or to facilitate interaction with other websites and social networks, are only set with your consent.
These cookies are necessary for the basic functions of the shop.
"Allow all cookies" cookie
"Decline all cookies" cookie
Customer-specific caching
These cookies are used to make the shopping experience even more appealing, for example for the recognition of the visitor.
Verlegefix Basis-Set XL 1,5 mm / Metall-Zange / 250 Laschen / 250 Keile

Order number:

311003289XL
Basiset XL 250 Laschen 250 Keile und Metallzange im praktischen Transporteimer Das geniale...
more
Product information "Verlegefix Basis-Set XL 1,5 mm / Metall-Zange / 250 Laschen / 250 Keile"
Basiset XL 250 Laschen 250 Keile und Metallzange im praktischen Transporteimer
Das geniale System zum Nivellieren von Fliesen bei der Verlegung. Geeignet für alle Fliesen in einer Materialstärke von 6-15 mm. Fugenbreite 1,5 mm
Der Vorteil der Verlegefix Professional Version ist, dass die Keile auch bei der Verlegung von 10 und 12 mm starken Fliesen fast noch beidseitig die gleiche Auflage Fläche bieten.
Auch ist die Sollbruchstelle an den Laschen nochmal verbessert worden, dadurch sind die Laschen nun noch stabiler.
Mit diesem Verlegesystem können Sie Ihre Fliesen absolut plan verlegen. Überzähne gehören der Vergangenheit an, da diese durch die Verwendung von Verlegefix zuverlässig vermieden werden.
Die Anwendung ist kinderleicht. Man spart Zeit und erhält einen perfekt verlegten Boden ohne großen Kostenaufwand. Der Einsatz kann sowohl an der Wand als auch am Boden erfolgen. Bei großformatigen Fliesen erweist es sich als besonders vorteilhaft.
Auch bei der Verlegung von Holzdielen Fliesen ist das System perfekt einzusetzen, da man damit die Fliesen (häufig konvex oder konkav gebogen) somit sogar noch ein wenig gerade biegen kann.
Der große Vorteil von Verlegefix liegt in der Qualitätssteigerung.
Die weißen Zuglaschen werden beim Verlegen in die Fugen eingesetzt. Die zweite Fliese wird so angelegt das nur noch die Lasche aus der Fuge herausragt. Die Fugenbreite beträgt mind 1,5 mm
.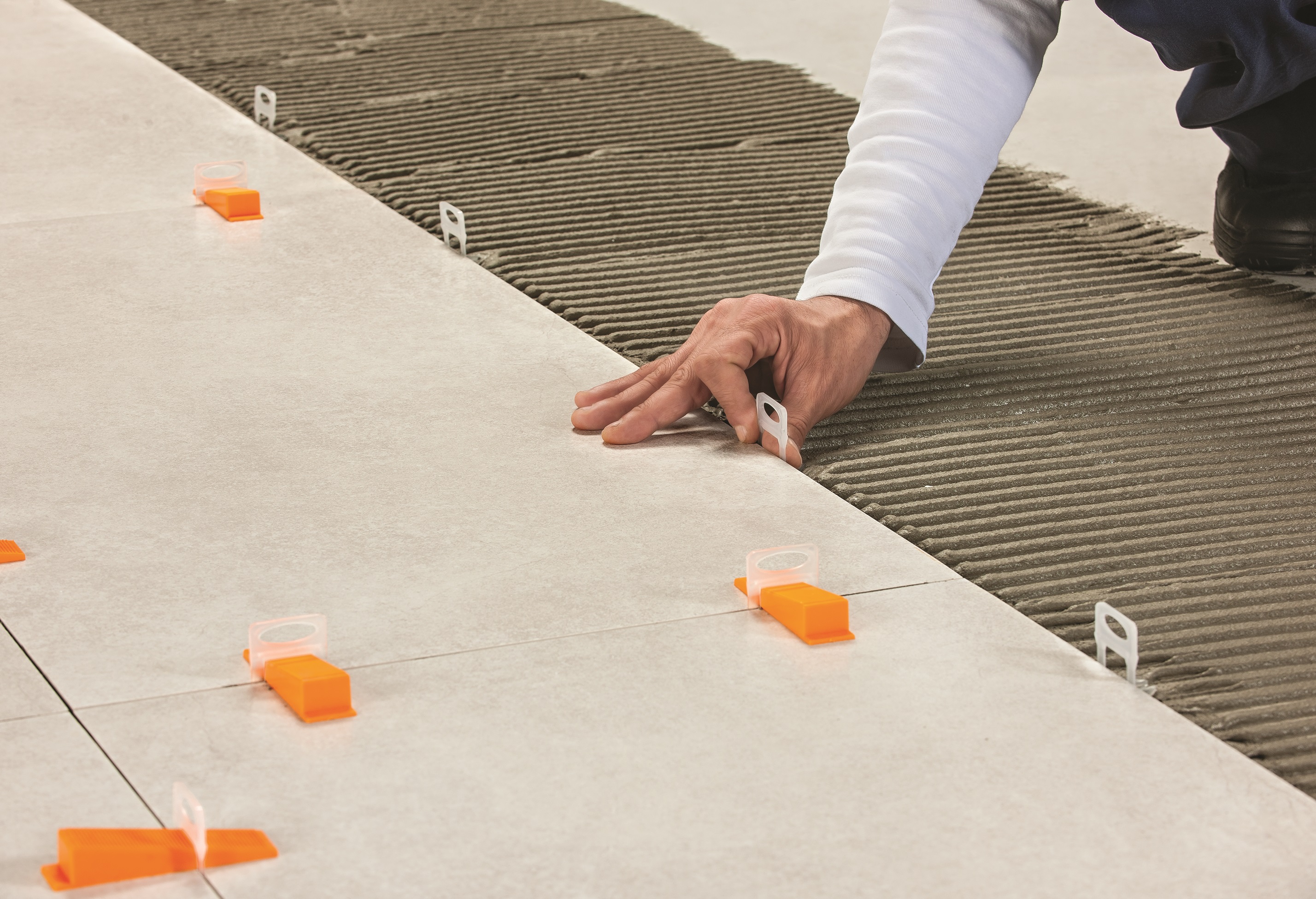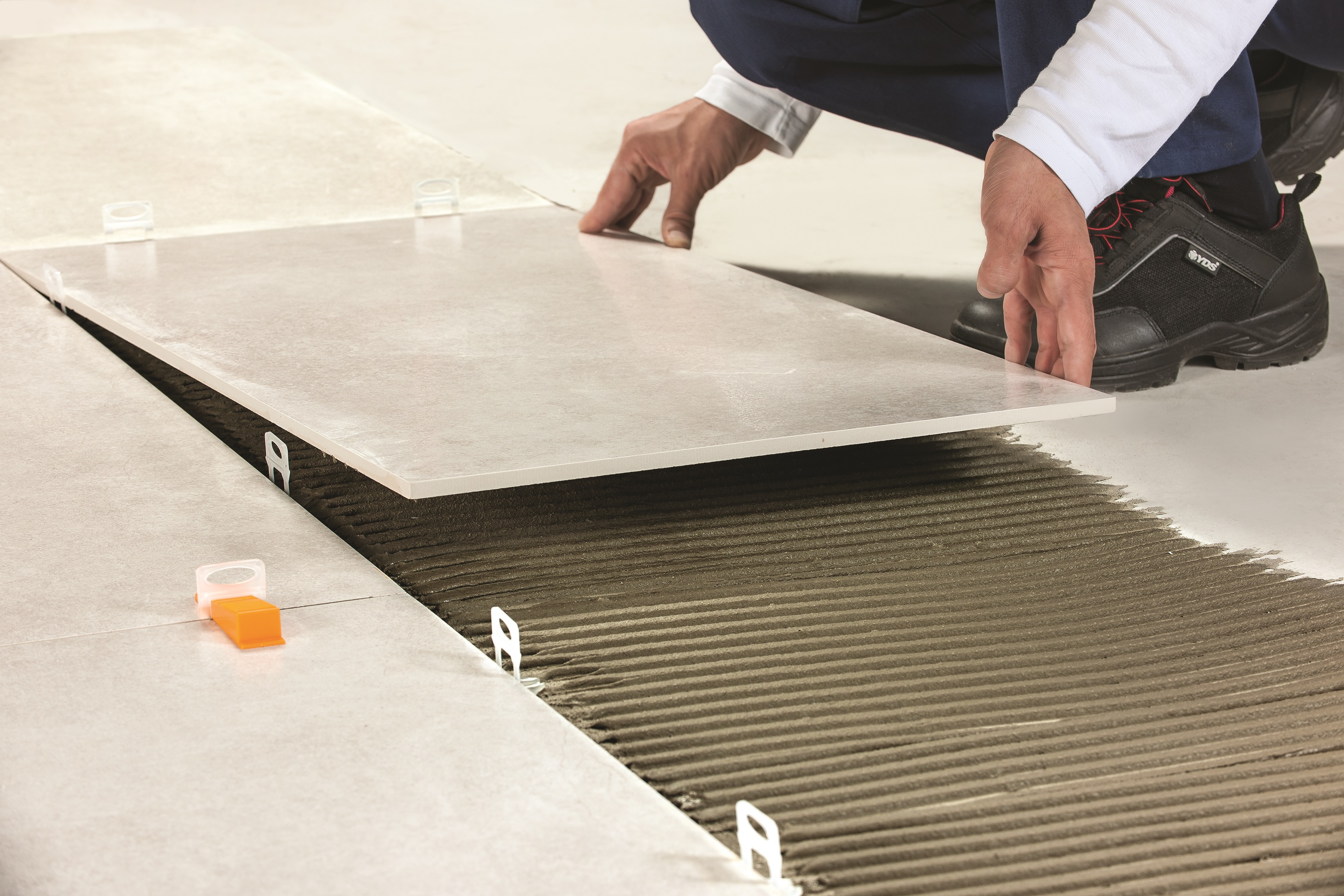 Nun können die Keile durch die Laschen geschoben werden. Danach werden die Keile mit der Spezialzange nochmal fixiert. Dadurch werden die Fliesen auf eine gemeinsame Höhe ausgerichtet.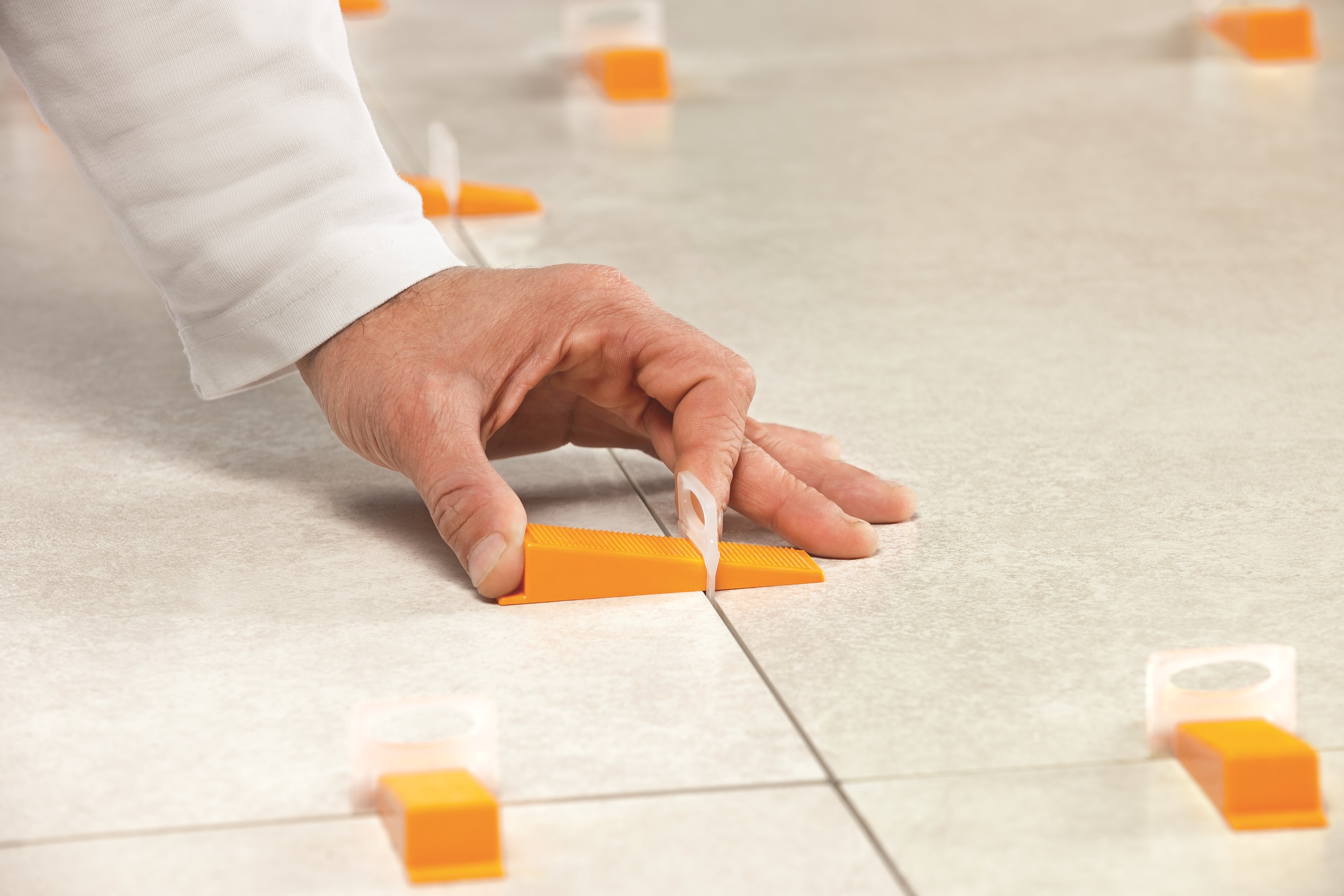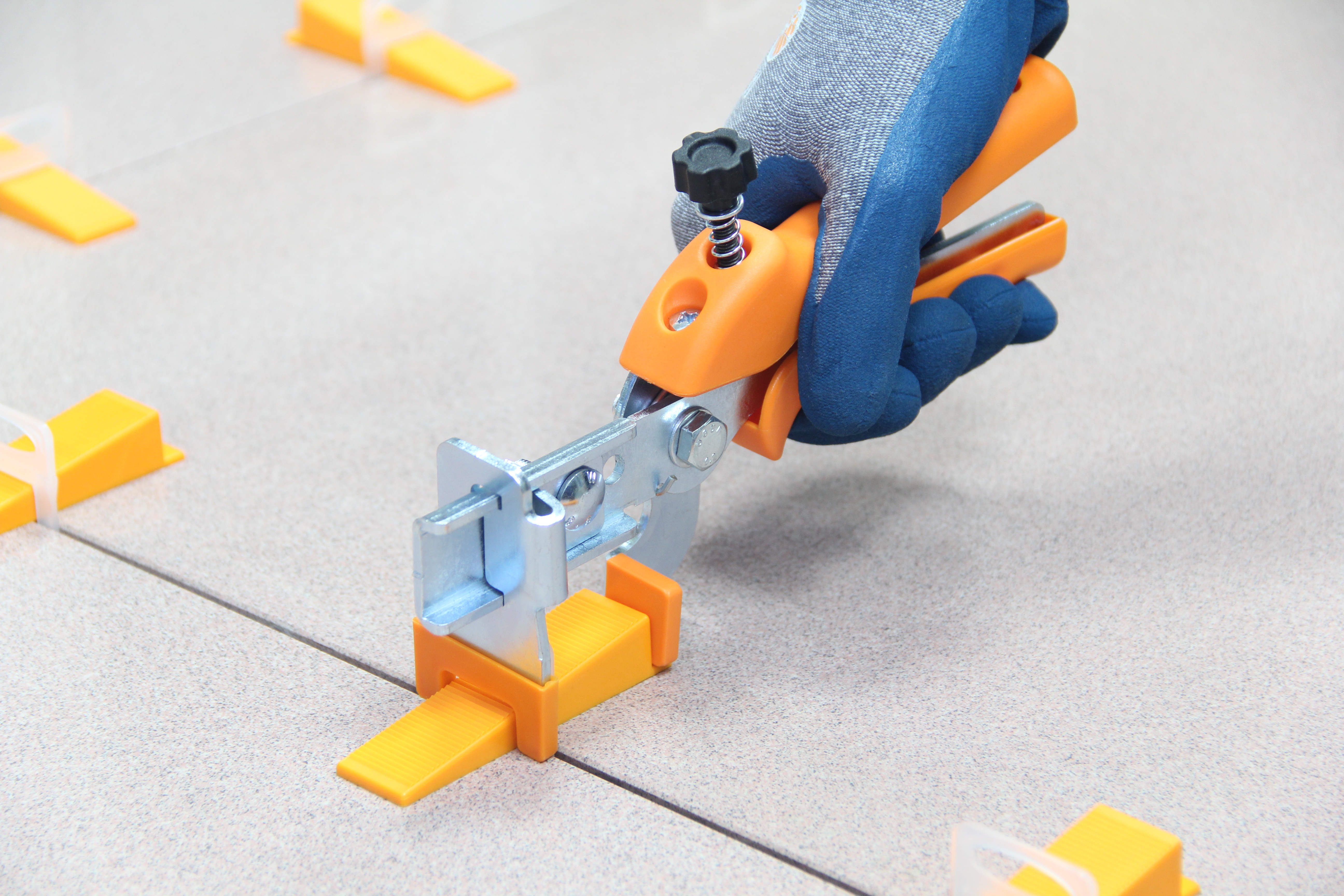 Nach dem der Fliesenkleber vollständig ausgehärtet ist können die hervorstehenden Laschen entfernt werden. Dieses kann durch Abtreten mit den Füssen oder durch Abschlagen mit dem Gummihammer erfolgen. Das Abtreten oder Abschlagen der Laschen muss immer in Richtung der Fuge erfolgen. Die Laschen brechen an der Sollbruchstelle ab und die Keile können wieder verwendet werden.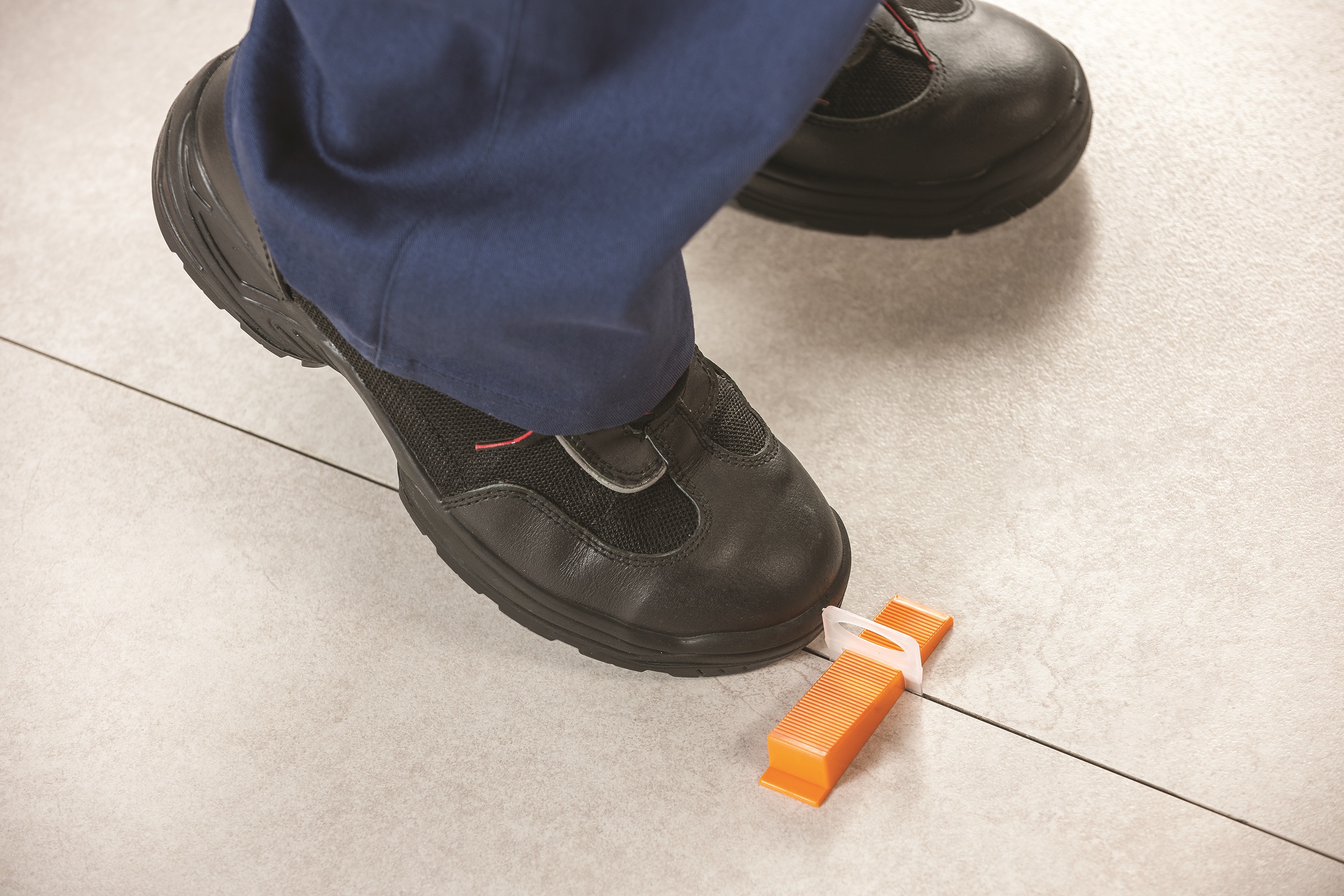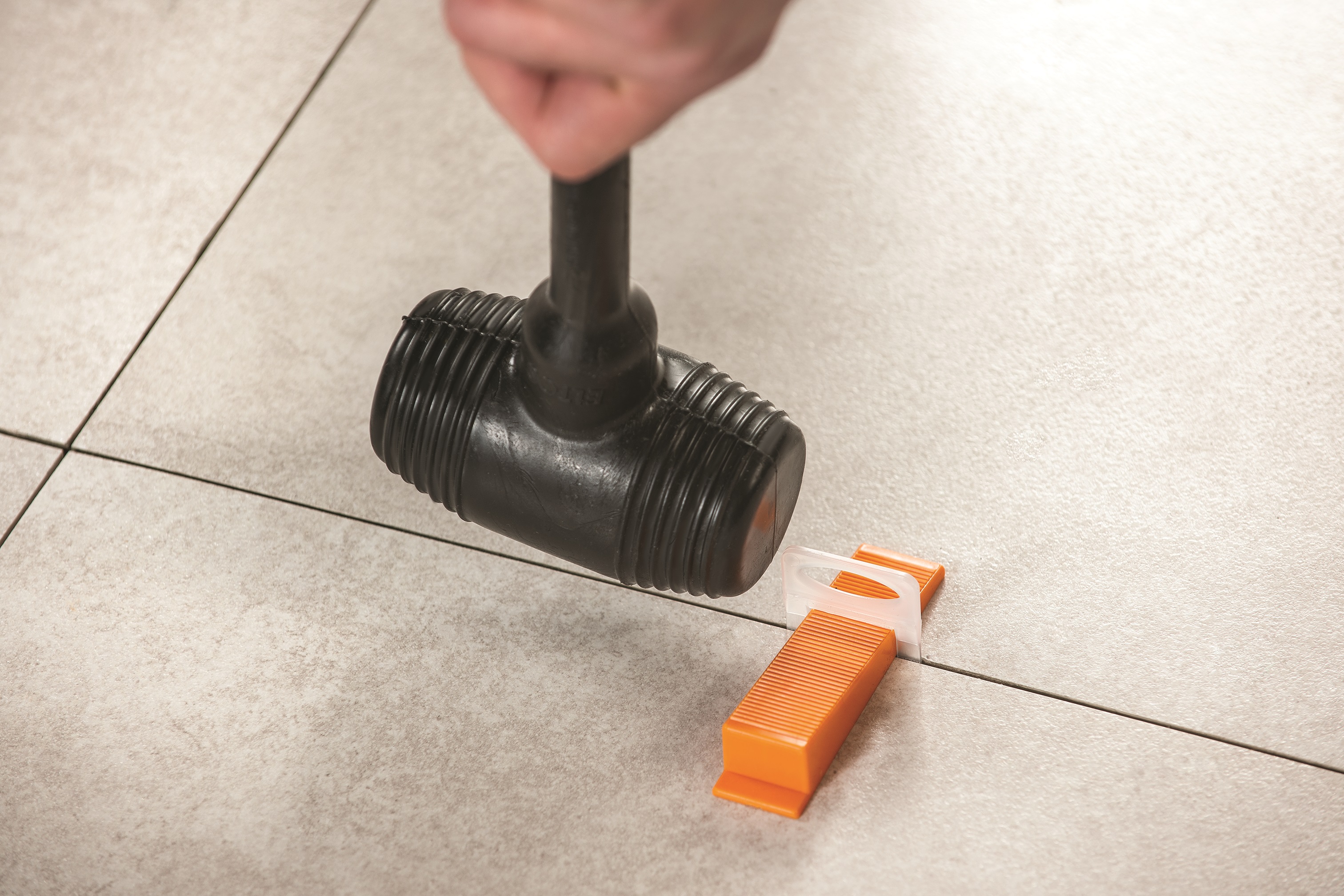 Related links to "Verlegefix Basis-Set XL 1,5 mm / Metall-Zange / 250 Laschen / 250 Keile"
Read, write and discuss reviews...
more
Customer evaluation for "Verlegefix Basis-Set XL 1,5 mm / Metall-Zange / 250 Laschen / 250 Keile"
From:
Norbert Pinnau
On:
27 Dec 2016
Verlegefix Nivelliersystem
Das System ist top. Warenversand blitzschnell. Gerne wieder!
From:
Hans Meyners
On:
24 Nov 2016
Verlegefix
feine Sache, beim nächsten Fliesenlegen wieder..............................
From:
Ronny Keller
On:
20 Nov 2016
Gutes System für große Fliesen und Verlegeanfänger
Habe das erste Mal Fliesen verlegt. Gleich mal 90 x 45 cm Fliesen. Ohne dieses System wäre ich sicher noch Tage am nivellieren der Fliesen gewesen. Mit dem System war es echt kinderleicht. Typ: Gleich mehr Laschen dazu bestellen, da 100 Laschen rechts schnell weg sind. Hatte 13 m² zu fliesen und hätte noch locker 20-30 Laschen gebraucht.
Das System wurde mir im Fliesenfachhandel empfohlen und ich bin echt froh es gekauft zu haben. Mein Gehilfe war auch begeistert und bekommt nun meine Keile (die ja übrig bleiben) und meine Zange. So dass die Folgekosten für weitere Fliesenarbeiten nur noch die Laschen sind.

Fazit: Als Anfänger / Amateur absolut zu empfehlen. Sehr schnell auch große Fliesen verlegen mit einfacher Handhabung
From:
Gerd Schneiders
On:
13 Nov 2016
Gute Qualität
Gute Qualität. Ein Teil der Laschen reißt bei etwas größerem Kraftaufwand ab.
From:
Artur Czulinski
On:
23 Oct 2016
schnel und sehr gut
Wirklich schnel und sehr gut, toll tool toll, schreib ich einfach sehr gut
From:
Martin Kurz23031953
On:
20 Oct 2016
martin
Verlegefix ist eine super Lösung um Fliesen plan zu verlegen.
Zustellung OK
From:
Jens Küppers
On:
13 Oct 2016
Bewertung
Schneller Versand, leichte Bedienung, auch für Heimwerker
From:
Jakob Kailer
On:
11 Oct 2016
J.Kailer
ein gutes System,sehr zufrieden auch die Lieferung war inOrdnung
From:
Martin B.
On:
4 Oct 2016
super Material
das Nivelliersystem ist super, wir benutzen es fast für alle Formate
From:
Markus Vietz
On:
24 Sep 2016
Gerne wieder.
Top! schnelle Lieferung, gute Beratung .....................................................................................
From:
Guido Steinmetz
On:
9 Sep 2016
Leichters Fliesen legen
Mit dem Verlegefix lassen sich besonders große Fliesen leichter verlegen.in meinem Fall waren es 70x35 und 70x50
From:
Hans-Martin Bittler
On:
30 Aug 2016
Verlegefix
Gut und leicht zu handhaben
From:
Elena Fertig
On:
21 Aug 2016
super
klasse Technik, empfehlenswert, super einfach. für ein komplettes Bad etwas zu wenig

From:
Wulf Neubauer
On:
13 Aug 2016
Schnelle super Lieferung
Endlich ein System was funktional ist. Wie immer super Kontakt mit dem Lieferanten
From:
Dieter Bartelt
On:
9 Aug 2016
Verlegefix
Wie bei den vorherigen Bestellungen verlief alles problemlos
From:
Eduard Schütz
On:
6 Aug 2016
Verlegefix
eine enorme gute Hilfe,egal ob für den Profi oder Laien
From:
Thorben
On:
5 Aug 2016
Verlegefix
Hab noch nie so perfekte Übergänge hingekommen. Einfach genial. Ich werds immer wieder verwenden. Daumen hoch.
From:
Till Althoff
On:
28 Jul 2016
Verlegesystem
Große Fliesen sind einfach und ohne zu verzahnen mit diesem System zu verlegen. Super Sache !
From:
Ralf Rosebrock
On:
24 Jul 2016
From:
meinEinkauf GmbH meinEinkauf Gmbh
On:
21 Jul 2016
begeistert
nach dem ich mich mit grossen unkalibrierten platten oft über überzähne geärgert habe, die trotz genauem arbeiten immer wieder entstanden sind bin ich von dem verlegefix system echt begeistert. es minimiert die überzähne fast bis zum verschwinden.
From:
Jens Scharrenweber
On:
19 Jul 2016
immer alles gut
immer schnelle Lieferung, alles super, klasse ware
From:
Michael Bradtberg
On:
16 Jul 2016
Laschen besser als die Originallaschen.
Ich habe die kompatiblen Laschen gekauft, diese lassen sich gut verarbeiten und noch besser entfernen als die original planfix Laschen. Ich bin zufrieden mit dem Einkauf.
From:
Ralph Gandl
On:
12 Jul 2016
Maurermeister Gandl
einfach und simpel zu verarbeiten,Arbeitserleichterung sehr hoch,Kosten-Nutzen sowie Service sehr gut.
Ich werde wieder bestellen.
From:
Dieter Bartelt
On:
11 Jul 2016
Verlegefix Nivelliersystem
Als Heimwerker benutzte ich das Verlegefix Nivelliersystem schon mehrmals und bin voll zufrieden. Ein kleiner Tip: darauf achten, dass an den Stellen, wo Klammern eingesetzt werden, kein Fliesenkleber herausqillt, da sich sonst die Klammer, wenn der Kleber fest geworden ist, nicht vollständig herauslösen lässt.
From:
Thomas Sieber
On:
5 Jul 2016
Verlegefix Professional Fliesen Nivelliersystem
From:
Alla Buchmann
On:
4 Jul 2016
Fliesen legen. ..
Mit Nivelliersystem Fliesen ligen kann jeder. Leicht und schnell. Bin sehr zufrieden. Danke.
From:
Olaf Ehrichs
On:
2 Jul 2016
Super Sache! !
Tolles ErgebnisErgebnis
From:
Christian Mayr
On:
9 Jun 2016
1000%
Kann man nur weiter empfehlen.
From:
Karim Karkor
On:
8 Jun 2016
Verlege system
Super System ,
Erleichtert die Arbeit und man hat ein sauberes Endergebnis
From:
Dirk Mudlack
On:
8 Jun 2016
Schnelle Lieferung und super Preis/Leistung
Die Teile sind eine echte Bereicherung und die Überzähne sind fast weg..Kaufe ich wieder
From:
Wolfgang Roßbach
On:
6 Jun 2016
Roßbach Wolfgang
Sehr schnelle Lieferung. Alles Top
From:
Christoph Schantz
On:
6 Jun 2016
From:
Dieter Bartelt
On:
6 Jun 2016
Verlegefix Nivelliersystem
Verlegefix Nivelliersystem ist, insbesondere beim Verlegen großer Fussbodenfliesen, unerlässlich und leicht zu handhaben.
From:
Tadeusz Rygiel
On:
20 May 2016
From:
Bernd Groß
On:
17 May 2016
Verlegefix
Die Lieferung war sehr schnell, alles bestens.
Das Produkt wurde noch nicht getestet, Fliesen wurden noch nicht verlegt.
From:
José Ramos
On:
12 May 2016
Verlegerfix
Super zufrieden, Danke
From:
Michael Kunz
On:
18 Apr 2016
Alles Super
Sehr zufrieden
From:
Christian Unterberg
On:
18 Apr 2016
sehr gute Wahre !
Sehr gute wahre und ein top Verkäufer !
From:
Sorin Jomir
On:
11 Apr 2016
From:
Bernhard Ponert
On:
9 Apr 2016
Tolles System, einfach in der Anwendung.
Schnelle Lieferung, TOP-Verlege-System. DANKE.
From:
Erich Haag
On:
9 Apr 2016
Verlegefix nur zu empfehlen!!
Lohnt sich auf jeden Fall, erst recht bei der Verlegung auf alten und unebenen Untergründen. Der Merhaufwand an Zeit ist unerheblich ebenso wie die Kosten für das Material. Ich habe schon mehrere 1000 Stk. verarbeitet. Nur zufriedene Kunden und keinen Ärger bei der Verlegung. Die Beschreibung über den Nutzen ist also keineswegs untertrieben.
From:
ronald milz
On:
15 Mar 2016
milz
verarbeitet sich sehr gut preis leistung ist super.bei grossen platten geht es super damit.
From:
Jonny
On:
9 Mar 2016
Verlegefix Professional Nivelliersystem Kompatibel Planfix
Habe über 20 000 Stk. verarbeitet, ich glaube das sagt alles, und habe noch 4 000 Stk. bestellt.
From:
Sven Blome
On:
1 Feb 2016
Besonders gut für Wandflächen
Nur zu empfehlen. Ein muss für hochwertige Arbeiten
Write an evaluation
Evaluations will be activated after verification.